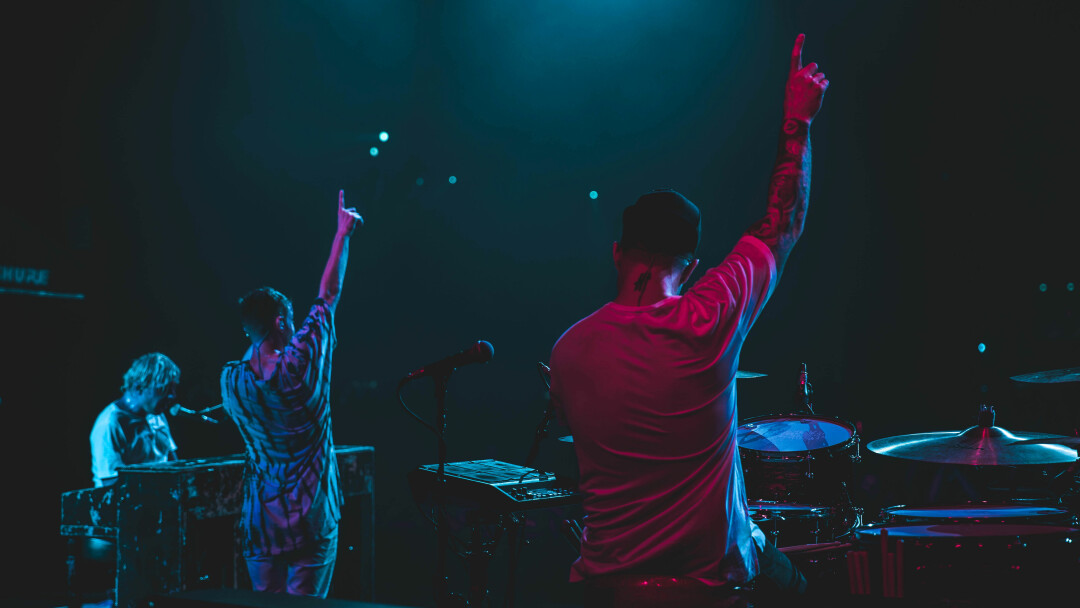 Is He Worthy?
Andrew Peterson and Ben Shive
Do you feel the world is broken? We do
Do you feel the shadows deepen? We do
But do you know that all the dark won't stop the light from getting through? We do
Do you wish that you could see it all made new? We do
Is all creation groaning? It is
Is a new creation coming? It is
Is the glory of the Lord to be the light within our midst? It is
Is it good that we remind ourselves of this? It is
Does the Father truly love us? He does
Does the Spirit move among us? He does
Does Jesus our Messiah hold forever those He loves? He does
Does our God intend to dwell again with us? He does
Is anyone worthy? Is anyone whole? Is anyone able to break the seal and open the scroll? The Lion of Judah who conquered the grave, He is David's root and the Lamb who died to ransom the slave. From every people and tribe, every nation and tongue, He has made us a Kingdom and priests to God to reign with the Son.
Is He worthy? Is He worthy of all blessing and honor and glory? Is He worthy of this? He is.
We find ourselves at the beginning of the Advent season, leaving a place of thanksgiving and entering in to a place of expectancy – expecting the long-awaited Messiah. We expect Him to "come." We expect Him to break into our dark and dreary world and ride in on a white horse to save the day. But, what if He doesn't do it in a manner, way, or time that we expect? What if He sees fit to come as a baby who chooses to dwell with mankind – a helpless infant. Or, what if He establishes a kingdom we can't physically see rather than create a great empire and rule over humanity?
Is He worthy?
With all of the brokenness and loss in the world, is He worthy? With confusion, depression, sickness, mental struggles, and loneliness, is He worthy? If you never see breakthrough in an impossible situation, is He worthy? We must grapple with this question:
Is He worthy even if nothing else ever went right in my life?
Reading Revelation 5, where this song is taken from, there is a sense of sorrow as John looks for someone righteous enough to open the seal on the scroll of God. It had to be someone 100% pure and trustworthy. Verse 4 says that John wept in his vision with deep grief over his assessment that there was not one person good enough. Then his countenance changes as his attention is drawn to Jesus.
"I wept and wept because no one was found who was worthy to open the scroll or look inside. Then one of the elders said to me, 'Do not weep! See, the Lion of the tribe of Judah, the Root of David, has triumphed. He is able to open the scroll and its seven seals.' Then I saw a Lamb looking as if it had been slain, standing at the center of the throne, encircled by the four living creatures and the elders…He went and took the scroll from the right hand of him who sat on the throne. And when he had taken it, the four living creatures and the twenty-four elders fell down before the Lamb. Each one had a harp and they were holding golden bowls full of incense, which are the prayers of God's people.
And they sang a new song, saying: 'You are worthy to take the scroll and to open its seals, because you were slain, and with your blood you purchased for God persons from every tribe and language and people and nation. You have made them to be a kingdom and priests to serve our God, and they will reign on the earth."
Then I looked and heard the voice of many angels, numbering thousands upon thousands, and ten thousand times ten thousand. They encircled the throne and the living creatures and the elders. In a loud voice they were saying: 'Worthy is the Lamb, who was slain, to receive power and wealth and wisdom and strength and honor and glory and praise!'
Then I heard every creature in heaven and on earth and under the earth and on the sea, and all that is in them saying: 'To him who sits on the throne and to the Lamb be praise and honor and glory and power, forever and ever.'" – Revelation 5:4-13
There's a line in the song that says, "Is it good that we remind ourselves of this?" We need to renew our minds with the fact that HE IS WORTHY regardless of circumstance and feeling – because when no one else was righteous, He was. When all else had sinned, He hadn't. When I was the guilty one on the stand for sentencing, He took my punishment. When I was enslaved, He bought me and freed me. You may not see what you want immediately in the natural but He is and has done an incredible thing for you and me in coming as the unexpected infant and establishing an eternal kingdom.
Is He still worthy? YES. Is He still worthy of praise? YES. Is He still worthy of honor? YES. Is His name still Faithful? YES. Is His name still True? YES. Does He still love us? YES. Are His ways greater than my own? YES. Is He still worthy?
YES. YES. YES. YES. YES.